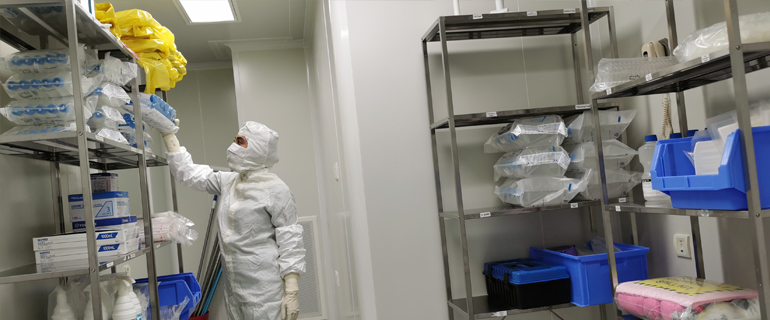 GMP Clean Room
NiSCELL's total Lab area measures approximately 2,500sq.ft. Within the said area there are four (4) cleanrooms equipped with all relevant equipment to cater for both R&D and Commercialization.

NiSCELL has established a state of the art GMP clean room facility to process and expand clinical grade stem cells for therapeutic application. This GMP facility has been approved by NPRA Malaysia. There are four GMP suites which are about 230 sq.ft each, which is designed to meet all national & international GTP and GLP standards with necessary equipment. This GMP facility is also controlled and monitored 24/7 electronically.

All cell culture procedures are performed inside biological safety cabinets (BSCs) that are rated Grade A for air quality. Overall design of the cleanroom suite includes air pressure differentials between inner and outer rooms and double door airlock entry to individual laboratory cleanrooms.
Our Laboratory & Equipment:
• Class 1000 GMP suites

• Quality control lab

• Preparatory room

• Class 100 Biosafety cabinets

• Cell therapy grade CO2 incubators

• Refrigerated Centrifuges

• Flow Cytometry FC500 Beckman coulter

• Phase contrast inverted Microscope with camera

• Pharmaceutical refrigerators